Why you need a Print on Demand app
In recent years, Print on Demand or POD is becoming one of the most evolving trends in eCommerce dropshipping. As more and more POD stores choose to start their businesses on Shopify platform, it's no surprise that the number of Shopify apps for Print on Demand has massively increased as well.
POD apps for Shopify provide a comprehensive Print on Demand service for your business. Your only job is to create eye-catching designs, add them to high-quality products and sell them on your Shopify store. The rest, including printing, storage and shipping, will be taken care of by POD service for Shopify stores. Thanks to Shopify apps for Print on Demand, you can minimize the upfront costs and reduce unnecessary workload while greatly enhance your revenues and control your profits based on your own calculation.
Key features of a Print on Demand app for Shopify
There are certain essential features you should keep in mind when choosing the best POD app for your Shopify store:
Pricing: If you just start to sell Print on Demand products on Shopify, you might want to choose a free POD Shopify app to reduce initial costs. Many Shopify apps help you begin a Print on Demand business without extra investment for storage.
Product range: The number of POD products you can sell is limitless, so many platforms offer a wide range of customization products. Take your time to go through the product catalogue and decide which product type matches your brand's personality.
Fulfillment options: A good Shopify Print on Demand service will take care of all fulfillment and storage without your involvement.
Manufacturing time: It's essential for any Print on Demand business to deliver products as fast as possible. Be mindful regards the production process and standard fulfillment time as well.
Best Shopify apps for Print on Demand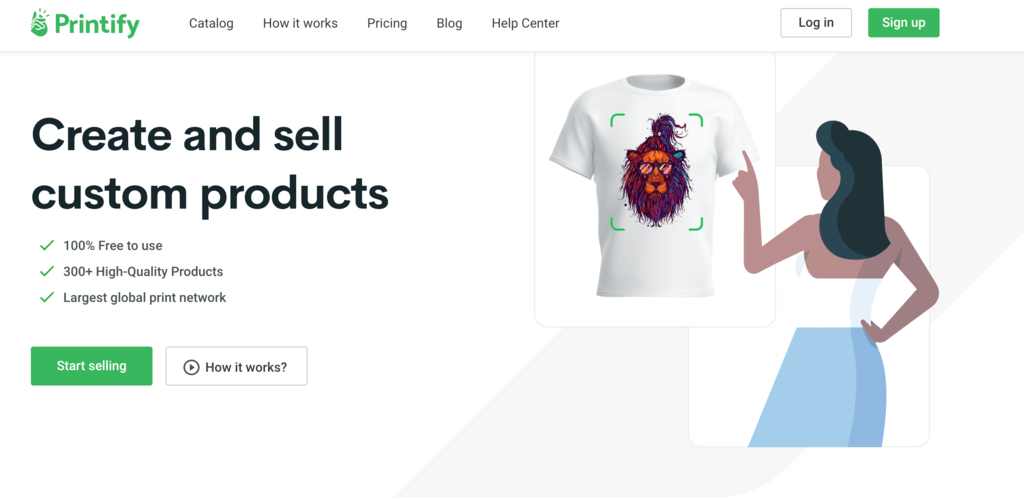 Another well-known Print on Demand platform on Shopify for you to consider is Printify. More than 500,000 merchants are running POD businesses using Printify services, as this is an all-in-one Print on Demand solution for both beginners and experienced sellers. Printful's Mockup Generator allows you to create custom printed t-shirts, hoodies, sweatshirts, and more than 900 other products as wished. One outstanding feature of Printfy is that they offer you all the best printing partners network from 90 locations, including the US, UK and China to ensure a seamless and faster fulfillment. The shipping rate and time will vary based on provider and shipping location.
Rating: 4.4 (1,900+ reviews)
Outstanding features:
Catalogue of over 900 products.
Best Product Costs on the Market.
Easy-to-use Mockup Generator.
A comprehensive network of Print Providers
Automatic Syncing with your Online Store.
Example Store: Printify store
Price:
Free for 5 online stores
Premium: $29/month
Enterprise: Custom pricing

Explore Podbase, the print-on-demand solution from the creators of Burga. Create phone cases and tech accessories with their user-friendly platform, creating custom designs is a breeze. Launch new products with just a few clicks.
Fulfilment Information
Products: Phone cases, Macbook cases, iPad cases, Airpods, Screen protectors
Printing technologies: Sublimination, UV printing.
Production: 1-2 business days.
Shipping time: Global shipping 2 days to 2 weeks
Print providers: In-house solution from production to integration.
Rating: 5.0 (10+ reviews)
Outstanding features:
Sell 400+ unique items
Mockup generator
Create customizable designs
Simple to use solution
Pros:
Live support via chat
Up to 40% cheaper than the competition
Global shipping
+100 phone case models
Cons:
Produced and shipped from the EU
Longer shipping time
Limited functionality
Pricing:
The Podbase app is free, there is no limitation for products and designs. You can get VIP pricing for larger order volumes. No upfront costs.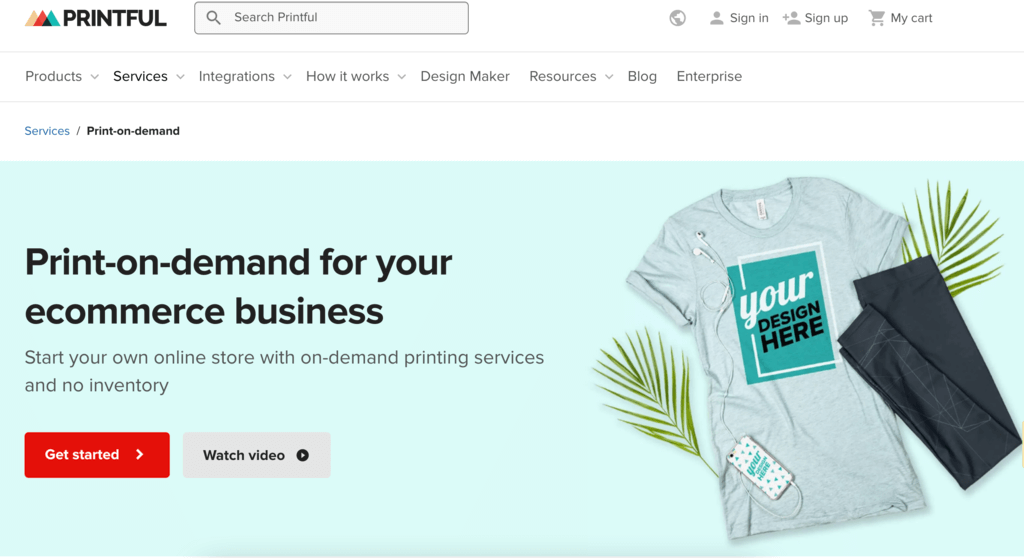 Printful is one of the top-rated Print on Demand dropshipping & warehousing services on Shopify App Store. Printful promises to take care of your Print on Demand business on Shopify from A to Z, with all the heavy lifting such as inventory, equipment, or shipping will be done by their experienced team. Currently, Printful is offering more than 290 high-quality products, from apparel and accessories to homeware for you to start your eCommerce journey. It's totally free to get started, you only pay Printful once you sell a product. Once you receive an order, it takes 2–7 business days to create a product and fulfill an order.
Rating: 4.6 (4,300+ reviews)
Outstanding features:
No upfront costs
Control over your profit
High-quality products
Product personalization
Discounted samples
Built-in tools
Example Store: Printful store
Price: Free plan available. Paid plans start from $9/month.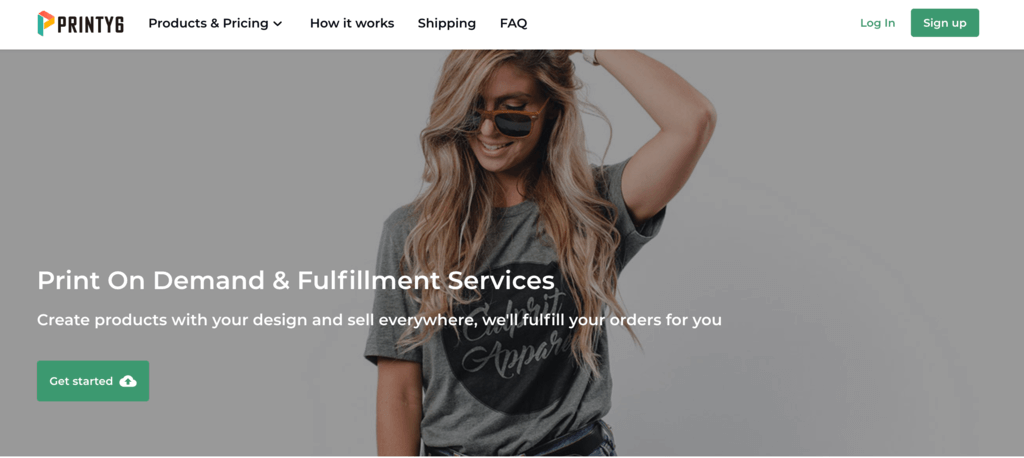 Printy6 by Snaprinting is a user-friendly Print on Demand service for Shopify businesses. Printy6 provides a wide range of available products, including canvas shoes, sneakers, bedding sets, watches and many more, so your only job is to concentrate on making unique designs. Once your shop gets any order, it will be sent to Printy6 automatically and they will manufacture, pack and deliver the designed items globally. Unlike other Shopify POD apps, Printy6's price already includes shipping fees, meaning that you can be proud to deliver global free shipping at your store. With the custom print service with MMS (Manufacturing Management Software) of Printy6, production will usually take 3-7 days, and shipping will usually take 5-17 days.
Rating: 4.1 (600+ reviews)
Outstanding features:
Plenty of items to print
Easy to use, user friendly
Better price and fast shipping
No inventory needed
Price: Free to install

AOP+ Easy Print on Demand is a start-up friendly tool for any artists, designers, and photographers who would like to start a POD business and run their own online stores. At the moment AOP+ is offering over 200 classic, premium and organic product variations, and their app takes only 30 seconds to create a product with your design. While other Shopify Print on Demand services outsource their printing, AOP+ print everything in-house and their production time is 3-5 business days. With the manufacturing centers in London, AOP+ is proud to have the most competitive prices compared to all print-on-demand services in the UK, EU and US.
Rating: 4.4 (150+ reviews)
Outstanding features:
Sell unique products
No upfront costs
Easy integration and
Fully automated system.
Price: Free to install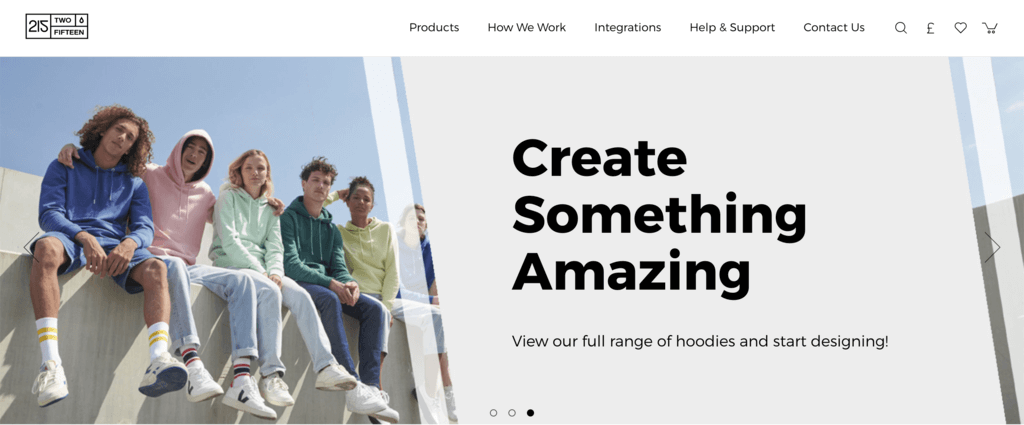 Two Fifteen is a POD and fulfilment service based in the UK. Two Fifteen – Print On Demand app will connect with your Shopify store and support you in creating and selling your design on more than 200 custom products, including vegan and organic items. There is no need to worry about stock, equipment and printing because they will handle everything for you. Any order will be printed and shipped from the UK factory within 1-5 days, and their quality control team will check your order to ensure it meets the standards before it is delivered to customers.
Rating: 4.4 (80+ reviews)
Outstanding features:
Print and ship on demand
Friendly and efficient customer service
Affordable low-cost shipping
Complete white label solution
Integrate with your Shopify store at the click of a button
Price: Free to install. External charges may apply.
Conclusion
All apps mentioned above are the best Shopify apps for Print on Demand that we have compiled based on ratings and reviews on the Shopify app store. As each service comes with a set of different features and prices, it's up to you to determine which one is the best for your experience and ability at this moment.