Affiliate marketing has become a popular way for individuals and businesses to earn passive income by promoting products and services to their audience. As a leading e-commerce platform, Shopify offers a robust affiliate program that allows affiliates to earn commissions for promoting a wide range of high-quality products and services.
In this comprehensive guide, we'll explore the benefits of becoming a Shopify affiliate and how to get started with the program. By understanding the features and benefits of the program, affiliates can make informed decisions about how to promote Shopify products effectively and maximize their earnings.
Whether you're a blogger, influencer, or e-commerce entrepreneur, this guide will provide valuable insights and actionable tips for achieving success as a Shopify affiliate.
Factors to Consider When Choosing a Shopify Affiliate Program
There are several factors to consider when choosing a Shopify affiliate program.
Commission Rate
The commission rate is the percentage of the sale that you will earn as a commission. Some Shopify affiliate programs offer a high commission rate, while others offer a lower rate. It's important to choose a program that offers a competitive commission rate to ensure that you can earn a good income.
Cookie Duration
The cookie duration refers to the length of time that a referral is tracked after someone clicks on your affiliate link. Some programs have a shorter cookie duration, which means that you'll only earn a commission if the referral makes a purchase within a few days. Other programs have a longer cookie duration, which means that you can earn a commission if the referral makes a purchase within a few weeks or even months.
Product Selection
The product selection is an important factor to consider when choosing a Shopify affiliate program. You'll want to promote products that are relevant to your audience and that have a good reputation. Look for a program that offers a variety of products that you can promote.
Payment Terms
Finally, you'll want to consider the payment terms of the affiliate program. Some programs pay out commissions on a regular basis, while others pay out commissions after a certain threshold has been reached. Make sure that you understand the payment terms before you sign up for a program.
Tips for Maximizing Your Earnings as a Shopify Affiliate
As a Shopify affiliate, there are various ways you can maximize your earnings and generate more revenue. Once you've chosen a Shopify affiliate program, there are several tips that you can follow to maximize your earnings.
1. Promote relevant products
When promoting Shopify products as an affiliate, it's essential to choose relevant products that will appeal to your target audience. This way, you'll be more likely to convert visitors into customers and earn a commission. Ensure that the products you promote are related to your niche, and you have personal experience with them.
2. Use multiple platforms
Diversify your promotional efforts by using multiple platforms to reach a broader audience. You can use social media, email marketing, blog posts, and other channels to promote your Shopify affiliate links. By using multiple platforms, you'll have more opportunities to reach potential customers and increase your earnings.
3. Create high-quality content
High-quality content that provides value to your readers can help you attract more traffic and generate more sales. Write detailed and informative product reviews, comparison articles, and other types of content that can help your audience make informed buying decisions. You can also include your affiliate links in your content to drive traffic to Shopify's website.
4. Track your results
Use analytics tools to track your promotional efforts and determine which strategies are generating the most revenue. By analyzing your data, you can optimize your campaigns and focus on the strategies that work best for you.
5. Engage with your audience
Engage with your audience through social media, comments, and other channels to build trust and establish relationships. Respond to comments and questions promptly, provide helpful advice, and offer personalized recommendations to your audience. By building strong relationships with your audience, you'll be more likely to convert them into customers and earn more as a Shopify affiliate.
Top 5 Shopify Affiliate Programs for Monetizing Your Online Store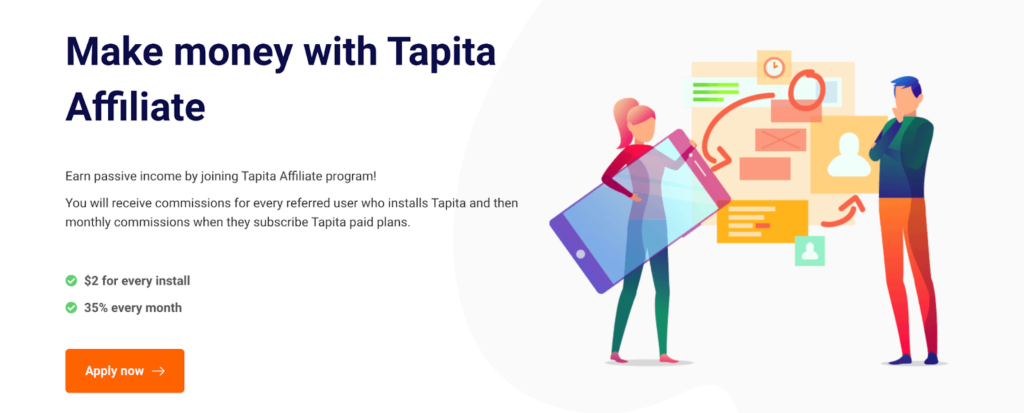 If you're looking for a great way to earn passive income, the Tapita affiliate program is an excellent choice. With this program, you can earn commissions for every user you refer who installs Tapita, as well as monthly commissions when they subscribe to Tapita's paid plans.
For every user you refer who installs Tapita, you'll receive a commission of $2. Then, when they upgrade to one of Tapita's paid plans, you'll receive a monthly commission of 35% of the plan's value.
There are several reasons why promoting Tapita is a great choice for affiliates. First and foremost, with Tapita's double commission structure, you have the potential to earn significant passive income with just a few referrals.
In addition, Tapita offers dedicated support to all of its affiliates, which means you can count on prompt and helpful assistance whenever you need it. And with Tapita's trusted app, you can be confident that you're promoting a high-quality product with a 4.9 average rating on the Shopify App Store.
So if you're looking for a reliable and profitable affiliate program, look no further than Tapita. Sign up today and start earning passive income with every referral!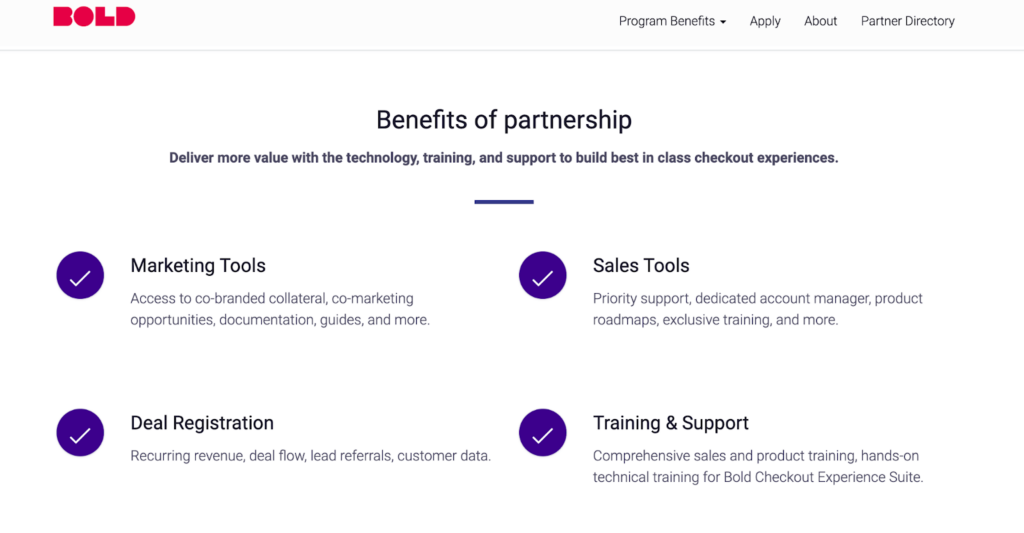 Bold Commerce has established a solid reputation in the Shopify ecosystem, providing a vast collection of apps that cater to various business needs. With over 80,000 merchants from 170 countries relying on Bold Commerce, it's evident that the provider delivers valuable solutions that drive results. By partnering with Bold Commerce's affiliate program, you can leverage the company's credibility and tap into its vast customer base.
Commission Rates and Payment Terms
One of the most significant advantages of Bold Commerce's affiliate program is its commission structure. You'll earn 10% of the recurring revenue of every app installed through your referral link. Unlike other affiliate programs that pay a one-time fee, Bold Commerce's model allows you to generate recurring income as long as the referred customers keep using the app.
Partner Manager and Support
One of the unique features of Bold Commerce's affiliate program is the availability of a personal partner manager. The partner manager is your go-to person for any questions, concerns, or issues you may have with the program or the apps. You can book a meeting with your partner manager through the Dashboard, and they'll be happy to assist you.
Signup Process
Bold Commerce's affiliate program is available on its own platform, meaning that you can access all the tools and resources you need to promote the apps and track your earnings in one place. The signup process is quick and straightforward, and you'll get access to a personal partner manager who can assist you with any questions or concerns you may have.
Loox is all about the power of social proof. This top-rated product review app has earned a score of 4.8 out of 5 from over 5,000 reviews, making it one of the most trusted and reliable options in the Shopify app store. By allowing users to add photo reviews to their products, Loox provides real-world evidence of the product's value and quality, increasing trust and confidence in potential customers. This social proof can be a game-changer for businesses looking to boost their conversions and drive more sales.
Commission Model and Average Compensation
Loox offers a one-year revenue share commission model, meaning that you'll earn a commission for every referral you make for up to one year after the customer signs up. The average compensation for Loox affiliates is 20%, or you can offer your referrals a 20% discount on their purchase, which can be a powerful incentive for them to buy.
Cookie Lifetime and Platform Availability
Although the cookie lifetime for Loox's affiliate program is not specified, the company ensures that all referrals are tracked accurately and efficiently. This means that you'll receive credit for every sale that comes through your referral link, even if the customer makes the purchase weeks or months after clicking on it.
Loox's affiliate program is available on its own platform, giving you access to all the tools and resources you need to promote the app and track your earnings. The signup process is quick and easy, and you'll get access to a personal partner manager who can help you maximize your earnings and answer any questions you may have.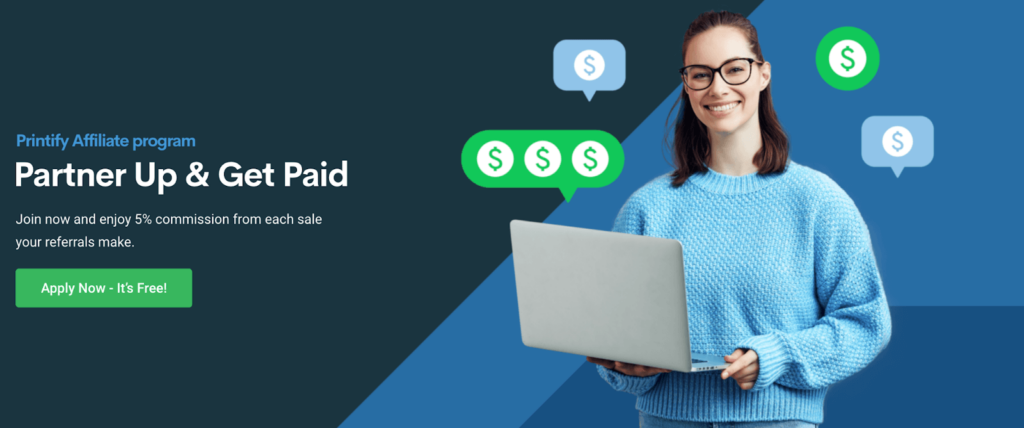 If you're looking for a hassle-free way to sell products with your own designs, look no further than Printify. With over 90 print providers at your disposal, this platform makes it easy for Shopify merchants to handle printing and shipping, without ever having to lift a finger.
What sets Printify apart from other print-on-demand services is its ability to cater to a wide range of niche markets. Whether you're catering to cat lovers, sports enthusiasts, or science fiction geeks, Printify has got you covered. With a vast array of customizable products, you can fill your Shopify shop with products that will have your customers coming back for more.
But the benefits don't end there. As a Shopify affiliate for Printify, you can earn a commission on every order your customer makes for a full year. And with no minimum payout threshold, you can start earning money right away.
Finally, Printify offers a very attractive commission model for its Shopify affiliate program. With a 12-month revenue share model and average compensation of 5% on every order, it's easy to see why so many entrepreneurs are choosing Printify to help them grow their online stores.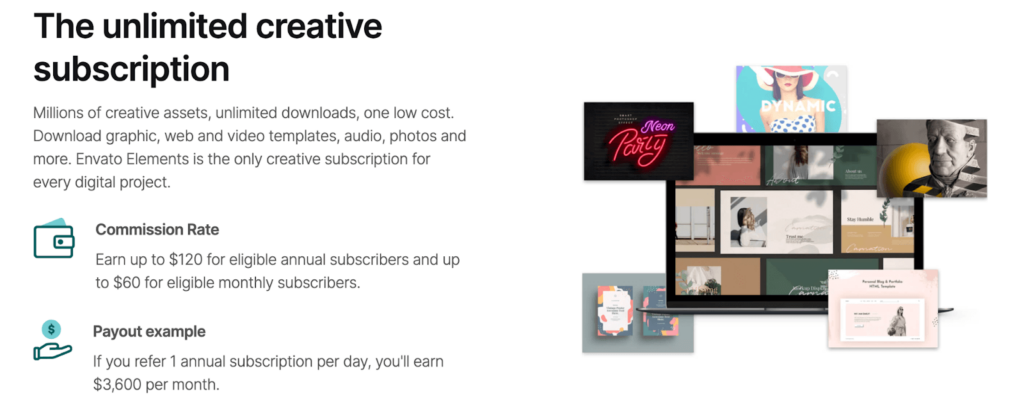 If you're looking for an online marketplace where you can find top-quality HTML templates, including Shopify themes, look no further than Themeforest. This platform offers a wide range of templates for various online platforms, so your audience won't be restricted to just Shopify themes.
Themeforest is part of Envato Market, one of the biggest and most popular marketplaces for digital assets. This means that when you promote Themeforest to your audience, you have the potential to earn even more commission when they decide to purchase additional assets like pictures, animations, or fonts to enhance their online presence even further.
One of the biggest advantages of promoting Themeforest as part of your affiliate marketing strategy is the attractive commission model. With a CPA (cost per action) model and an average compensation of 30%, you have the potential to earn significant revenue when your audience purchases templates or other digital assets through your referral link.
Another advantage of promoting Themeforest is the wide range of templates and assets available on the platform. Whether your audience is looking for a professional-looking Shopify theme, a stunning website template, or eye-catching graphics for their social media channels, they can find it all on Themeforest.
Conclusion
In conclusion, becoming a Shopify affiliate can be a highly profitable and rewarding opportunity for entrepreneurs and marketers. By promoting high-quality Shopify apps and services through affiliate links, affiliates can earn passive income and help merchants grow and optimize their businesses.
Throughout this article, we've covered some of the best Shopify affiliate programs on the market, including Tapita, Bold Apps, Loox, Printify, and Themeforest. We've also provided tips and insights on how to choose the best Shopify affiliate program, as well as how to promote these programs effectively and maximize your earnings potential.
As you explore the world of Shopify affiliate marketing, it's important to remember that success requires dedication, effort, and a commitment to providing value to your audience. By choosing the right programs, creating high-quality content, and leveraging multiple promotional channels, you can build a successful Shopify affiliate business and achieve your financial goals.
So, whether you're a seasoned affiliate marketer or just getting started, we encourage you to explore the opportunities offered by Shopify affiliate programs and take your first steps towards a more profitable and fulfilling online business.